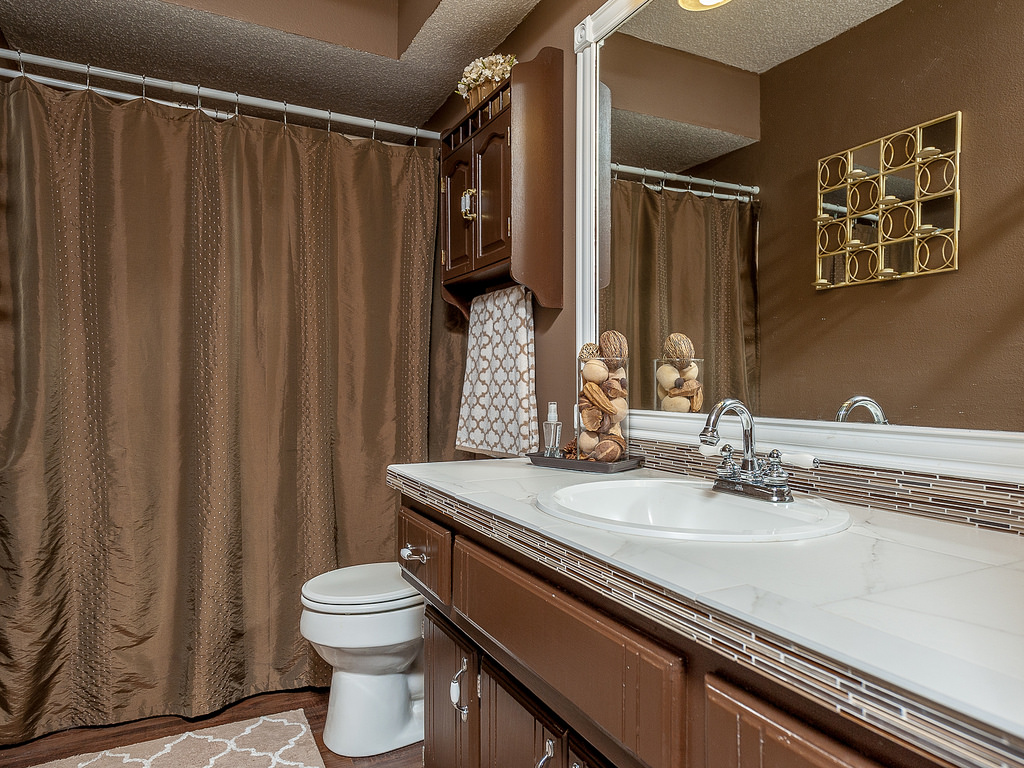 The bathroom is the only room in a household where we're expected and encouraged to lock ourselves inside. With that kind of permission, it makes sense to transform this private space into a luxurious sanctuary designed to get us away from our stress of work, or the aches, pains and memory of our newest workout routine.
Granite Countertops and Use of Stone Everywhere
Granite countertops and stone accents throughout, are the hottest bathroom trends and have the ability to modernize any space and make your sanctuary look rich, warm and luxurious too. Granite is particularly loved, because of its look, feel and durability. Also, its earthy colors add great warmth to any bathroom space. Here are a few benefits of granite:
Hot items or cutting on granite will never damage the surface.
Once sealed, granite is stain resistant.
Sanitary and non-Porous. Granite does need to be sealed every two years.
The minerals within add depth and character making every granite top different.
The color of your granite countertop will never fade.
Adds value to your home.
Luxury Lighting
Lighting sets the mood and tone for any room and these days there is special lighting for the different areas of the bathroom. The four types of light needed for the best bathroom atmosphere are; task, accent, decorative and sparkle;
Task lighting is the light by which you can best see yourself such as in the mirror. The best approach is a pair of sconces mounted at eye level on either side of the mirror. This removes any shadows and lights up the face from all angles creating the best scenario for makeup application, shaving, tooth care and so on.
Decorative Lighting is lighting whose fixtures are beautiful and add to the décor of the bathroom.
Accent Lighting, will best show off any art you have in your bathroom. Recessed directional lights provide focused illumination for each piece of art.
Ambient Lighting acts as indirect lighting to help create a mood for the overall space. For taller bathrooms, or ones with alcoves or differing ceiling heights, this lighting can be essential.
Walk-In Steam Shower with Multiple Showerheads
Not long ago, the shower was only about spending five minutes to rinse off dirt. Things have definitely changed for the better. Now there are tricked-out showers with up to 20 jets, two rain heads and vapor sealing for the steam shower apparatus. These new showers are capable of massage, mimicking a forest rain or giving you a steam room blast. Many designs also include seating for two. How about going to a spa without leaving your home.
Top of the Line Luxury Bathtubs
For your bathroom to truly be your sanctuary, you need to have a tub to relax in for long periods. A great option is a spa tub with all of the available features. A top-line spa tub has a combination of artistry and full-function spa appeal. A fabulous tub will make it feel less utilitarian, and more like a living space. Some tubs today have wall mounted bath faucets, so they are completely away from you while you are in the tub, giving you a complete immersion experience. They also feature dozens of jets that combine with heat and vibration to go from a gentle massage to an all-out tsunami, relieving stress and taking you to a desirable mental place.
High-End TV and Sound System
So you just decided that you need to get your sound and viewing on, while relaxing in your top of the line spa tub. This means a flat-screen TV or surround-sound stereo system in the bathroom. You've pictured yourself in your whirlpool or Clawfoot tub, sipping an iced tea after a long day, with the sun setting and listening to Jackson Browne, or your favorite TV show. Relaxing in the tub is one thing; but relaxing in the tub while your favorite singer serenades you, takes unwinding to a whole new level. The great news is that you can get any size TV moisture-proofed and installed, and the best sound system with an unlimited amount of speakers and wattage at you remote control holding fingers. So go for it.